G
reen Island is a beautiful 6000 year old coral cay located in the Great Barrier Reef Marine Park, just 27 km offshore from Cairns, Tropical North Queensland.
A unique Great Barrier Reef Island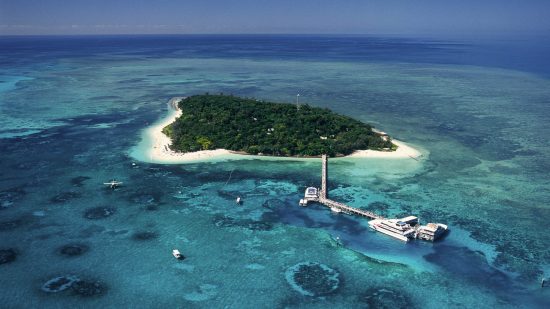 A National Park, Green Island is approximately 12 hectares in size and is unique in that it has a reef and rainforest environment. Of the 300 coral cays in the Great Barrier Reef, Green Island is the only one with a rainforest.
Flora and Fauna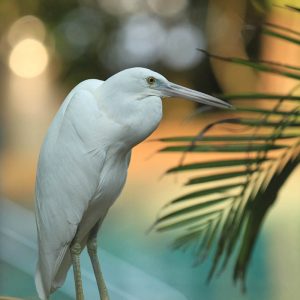 Green Island is home to over 120 species of native plants, including a unique mixture of coastal and rainforest plants. The coastline is ringed by coastal vegetation that can survive drier conditions along the beach. But, step a few feet in to the centre of the island, and the vegetation changes abruptly to a dense, shady vine-thicket rainforest.
Green Island attracts a wide range of colourful birdlife, including land birds, seabirds and migratory birds that pass through the Great Barrier Reef on the way to nesting grounds. There are over 55 species of birds regularly seen on Green Island. About 15 types of birds regularly nest on the island.
Diverse Marine Life
The reef surrounding Green Island supports a diverse range of habitats and marine life.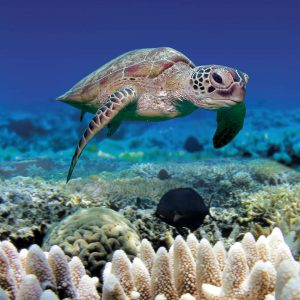 There are two significant habitats:
The seagrass beds in the shallows support a wide range of animals, from juvenile fish that use the grass for protection from predators to large sea turtles and dugong that feed on the seagrass.
The reef around Green Island starts shallow and continues into the depths and has over 190 different types of hard corals and over 100 types of soft corals.
An island of History
Visitors to Green Island are often surprised to learn that the name the island bears is not because of its lush green rainforest – but was in fact named in 1770 after the astronomer onboard the HMS Endeavour, Mr Charles Green. HMS Endeavour, was a British Royal Navy research vessel commanded by (then Lieutenant) James Cook on his first voyage of discovery to Australia and New Zealand in 1768-71. On Sunday 10 June 1770, Captain James Cook first marked Green Island on navigational charts …. "after hauling round Cape Grafton", Cook saw a "low green woody Island". He named this Green Island after the ship's astronomer, Mr Charles Green.